Photos: Shahrukh Khan's daughter Suhana and other celebs enthrall the IPL crowd
Suhana Khan along with her friends is a regular feature in IPL matches featuring Kolkatta Knight Riders.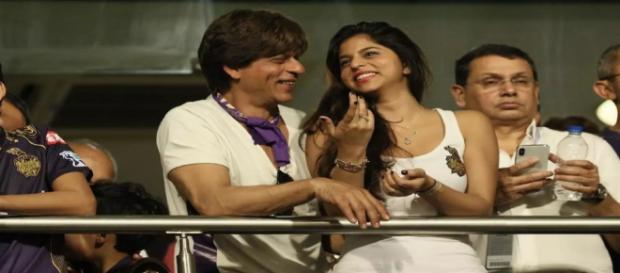 For King Khan, his family and children mean supreme and daughter Suhana reigns supreme in his kingdom. Shahrukh considers his kid as his lucky charm, and this fact has been proven innumerable times. With his lucky charm in his tow, no wonder his home team Kolkatta Knight Riders beat the much fancied Royal Challengers Banglore led by the Indian Captain, Virat Kohli.
Suhana Khan enthralls the crowd with her presence
For Kolkatta Knight Riders, it was a difficult opening match without the presence of their dashing skipper, Gautam Gambhir. However, they managed this in style in front of the capacity crowd.
As soon as KKR won the match, Shahrukh came before the crowd with his daughter and her best friend, Shanaya Kapoor. Suhana was accompanied by her brother Abram who is also an integral part of the KKR team.
Suhana who will be making her Bollywood debut was the connoisseur of everyone, wooing with her seducing smile much akin to her father who also has one of the most alluring smiles in the industry.
Suhana Khan Army here 💖 💛 love from #CskUniverse 😉😜

Hit 👉 Retweet #Suhanakhan #CSK #KKRvRCB pic.twitter.com/jabQ44XsiU

— CSK UNIVERSE (@CSKUniverse) April 8, 2018
Juhi Chawla's daughter Jhanvi
The actor never stops to play the doting father to his kids, and it is refreshing to see him more like a friend to them. Unlike other franchise owners leaving out Preeti Zinta who owns Punjab Kings XI and the Ambanis who own Mumbai Indians, only Shahrukh is most visible prepping up his team, and his kids are always there to cheer their home team.
RT If You Are Exciting To Watch This More than Matches of IPL 😉😉🔥🔥🔥🔥🔥🔥

Preity Zinta Shaking Her Big Assets.#PreityZinta #IPL #VIVOIPLonStar pic.twitter.com/24NoGW7jVo

— Unseen Bollywood (@UnseenBoIIywood) April 7, 2018
Kolkatta Knight Riders are also partly owned by starlet Juhi Chawla also makes it a point to be present in most important matches.
Her daughter, Jhanvi Chawla ably assist her. She has become an integral part of the team and is seen devising strategies and other back-office jobs of the team.
The 12th Knight alongside Suhana Khan and @gaurikhan at Eden Gardens last night during the #KKRvRCB match! 💜✨🙌🏻 #KKR #KorboLorboJeetbo #IPL2018 #KKRHaiTaiyaar pic.twitter.com/0QJEQEbOit

— SRK Universe (@SRKUniverse) April 9, 2018
MD Dhoni's daughter and Shikar Dhawan's son
For Kolkatta fans, it was a long wait of more than one year before they could see the face of Abram, the youngest child of Shahrukh Khan. The media went into a tizzy and flash popped furiously to record the adorable and cute kid's antics. Other cricketers also did not lose time to bring their children to the IPL games.
IPL 2018: Sachin Tendulkar, Mukesh Ambani visit Mumbai Indians training camp ahead of opening game against CSK Crickbuzz Live https://t.co/DCbgDD0mPh pic.twitter.com/rowkPz7YPb

— Soniya (@iam_soniyaa) April 4, 2018
Another doting father is Mahendra Singh Dhoni who never misses any opportunity to be near his princess daughter Ziva.
Shikhar Dhawan's son was the star of last year's Indian Premier League match between Sunrisers Hyderabad and Mumbai Indians, in Hyderabad.This year the kid is grown up and will surely give fans much to cheer about.
. @iamsrk and his daughter #Suhana enjoying #KKRvsRCB game.. #IPL2018 pic.twitter.com/6FODQzS5Rt

— Ramesh Bala (@rameshlaus) April 8, 2018
Gayatri Reddy of Deccan Chronicles
The IPL could be a preserve of the rich, but the kids are also increasingly getting involved in the nitty-gritty of their parent's franchisees. So we see today. Gayatri Reddy, daughter of Deccan Chronicle chairman, T Venkatram Reddy, discussing strategies with the prominent Whigs of the game, and we also see Akash and Nita Ambani debating animatedly during the IPL auctions.
Vintage Deccan Chargers Gayatri Reddy 💕😘#IPL pic.twitter.com/7yACoveqEP

— Niranjan™ (@Prabhas_18_VK) March 24, 2018
It is a welcome relief to see the youngsters take on different aspects and responsibilities of the game instead of the grim-faced and aging stalwarts of the game.
.@SrBachchan and @juniorbachchan at the CSK vs MI IPL match last night pic.twitter.com/wwMKM3AXWT

— B4U (@THEOFFICIALB4U) April 8, 2018
Apart from his kids, King Khan was also accompanied by Gauri Khan and her friends. She also made public a picture and a short video on her Instagram account. KKR will be missing Gautam Gambhir who has been replaced by Dinesh Kartik as its skipper.
Dinesh Kartik is going big guns, and Shahrukh has welcomed him into the team with a lovely message on his Twitter account which read as, "As we stand poised for a new season of KKR we welcome @DineshKarthik as our Captain. Like our Captains, over the years we know u will also lead us by boosting the self-esteem & dignity of all of us."
IPL 2018: Sachin Tendulkar, Mukesh Ambani visit Mumbai Indians training camp ahead of opening game against CSK Crickbuzz Live https://t.co/DCbgDD0mPh pic.twitter.com/rowkPz7YPb

— Soniya (@iam_soniyaa) April 4, 2018
No one can forget his breathtaking innings in the 3rd T20 against Bangladesh in which he hit the sixer of the last ball. #suhana khan hot #srk suhana ipl #suhana khan ipl