BJP and Yogi try and save rape accused MLA by handing case to CBI
Despite stringent action envisaged in POSCO and rape that mandate immediate arrest the BJP and State government have not arrested rape accused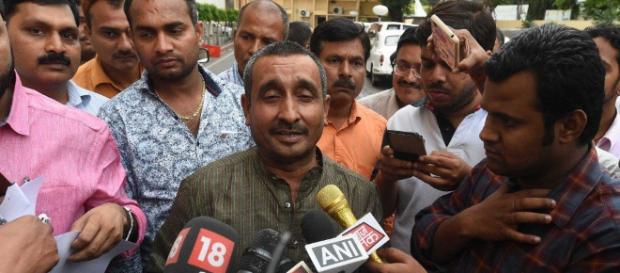 The BJP is in a fix in #UP. The Yogi Adityanand government finally has been seen as a government that cannot execute what it promised. During the election campaign, the BJP, #Modi and the CM Aditaynand talked of protecting the girl child and a state free of crime. All this has remained on paper, as case after case has surfaced that show that all the BJP wanted was power but no accountability. And in two major cases of rape in Unnao in Jammu and another in UP the BJP governments have soft-pedaled the issue and resorted to dilatory tactics.The Times has now reported that an FIR is filed against the MLA, but he is not arrested as the government has transferred the case to the CBI.
Rape case
The case against Kuldip Singh Sengar, the BJP MLA has caught the imagination of the public.
After much delay, an FIR has been filed against the MLA for raping a girl who had come to him for a job. Worse when the girl accused the MLA of rape, the MLA's brother, and some goondas thrashed the father of the girl so badly he died. Still, nothing happened till the national press took up the issue.The BJP government led by Yogi Adityanand resisted all efforts to arrest the accused.
Perfidy
People are aghast at this perfidy which has given a breather to the MLA who has brazenly been moving around maligning the girl and family and proclaiming his innocence. The fresh laws passed by the Indian parliament made an immediate arrest mandatory, but Yogi has got around this proviso by saying he has handed the case to the CBI.
In the meantime, the MLA is free to roam about. Considering that the rape took place a year back and it was only when the girl attempted self-immolation outside the CM's office that perforce Yogi took some steps.
One really wonders how Modi selected the Yogi, a religious head of a sect to be CM. The man knows nothing of administration and governance, and as can be seen, he is still in the election mode. Rapes of girls and his MLA be damned, so long as the BJP remains in power.
Future
Yogi, however, is on a sticky wicket and no amount of whitewashing his acts can take away the accusation that he and state government failed to move against the MLA Kuldip Singh. The sequence of events shows that the district administration right from the police to the doctors at the government hospital was privy to an act of murder- the killing of the father of the young girl. A few suspensions have taken place, but this just shows how bad the law and the crime scene is in UP under the BJP. Its about time the BJP and their vote catcher Modi was shown the door. #India