Indian wrist spinners bowl India to a great victory over SA in second ODI
The Proteas have suffered a second decisive defeat in the ODI played at SuperSport Park in Centurion as they failed against duo of Chahal and Yadav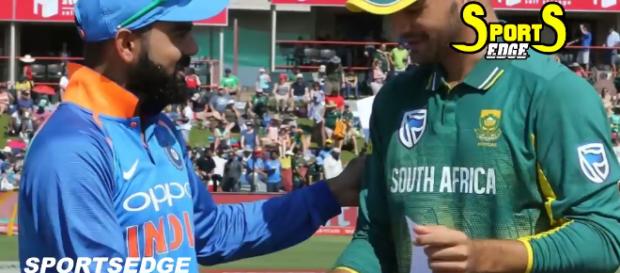 South Africa after winning the test series 2-1 were expected to win the six-match one-day series as well. But the warning signs were there as #India made a great comeback to win the third test. The momentum of that victory carried forward and resulted in a great win in the first ODI played at Durban.
The second played at the Super Sports Park at Centurian turned out to be a one-sided encounter and the South African team lost by nine wickets. The sports channel of NDTV has reported that the South Africans were bamboozled by the two wrist spinners Yuzvendra Chahal and Kuldeep Yadav and could muster only 118. This led to a massive defeat.
Proteas collapse
Kohli won the toss and elected to field. South Africa had a new captain as their star player, and skipper Du Plessis was sidelined because of injury. The captaincy was given to Aiden Markram. It was a poor start as his batsmen failed to negotiate the Indian spin duo, who between them took eight wickets, with Chahal bagging 5 for 22 to record the second-best bowling analysis ever by an Indian in limited overs cricket. The failure of the SA batsmen to use their feet led to their downfall. The two spinners even in the first ODI had throttled the African team in the crucial middle overs. All that the Proteas could muster was a paltry 118, and the decks were clear for an Indian win, apart from a miracle.
Kohli led from the front. After the departure of Rohit Sharma, the other opener Shikhar Dhawan and the captain played themselves in and overhauled the paltry South African total to record a facile victory.
The South African pace attack was blunted, and their spinners led by Tahir failed to exploit the pitch. Credit for the victory must go to Kohli, who despite being hit in the ribs by a rising delivery, batted with fluency to lead India to a win. Shikar Dhawan helped himself to an unbeaten half-century.
Spin heritage
The two spinners, Chahal and Yadav, have continued the old Indian heritage of spin bowlers. India has produced some of the worlds best spinners and the sixties to the eighties the famous quartet of Bedi, Chandrashekhar, Prasanna and Venjkatraghavan made a name on the world stage in test cricket. Even earlier the legspinner Subhas( Fergie) Gupte was rated the best leg spinner in the world in the fifties.
Onward to third ODI
India will now go to Johannesburg for the third ODI with a2-0 lead, and as Kohli commented after the match, the momentum is with India. South Africa will have to do better in the remaining matches to salvage the ODI series.
The competition for a place in the Indian team is high as can be seen that Ravichandran Ashwin a world-class spinner does not find a place in the playing XI. A lot of credit for the recent successes of the Indian team must go to the coach Ravi Shastri, the former test all-rounder who has molded the team into a fighting unit. #ODI series