Blue color Bal Aadhaar Card was launched for children under five-years-old
This card doesn't need bio-metric identification as does the regular Aadhaar Card.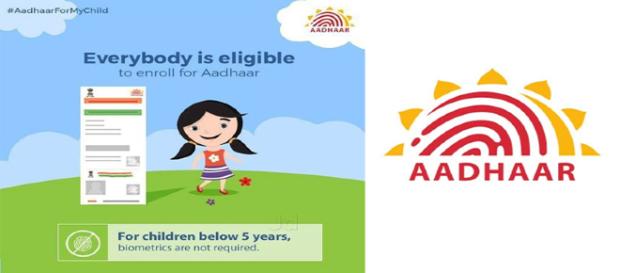 A special blue-coloured aadhaar card for children under 5-years-old has been launched by the nodal authority for issuing Aadhaar card UIDAI (Unique Identification Authority of India). The name of this special Aadhaar card is "Bal Aadhaa" which could be literally translated into Kid's Aadhaar.
Your lovely toddler will soon get a national identity soon and the card will certainly help to fast-track the procedure of the population count of this nation and also help the Government to reach out quickly to the children to provide all the needed facilitation.
Features of the card
If we talk about the features, they can be hugely differentiated from the normal Aadhaar because it won't have any kind of biometric identification like a fingerprint or Iris scan. This is because wherever this card will be needed their parents/guardian will accompany them.
However, when the kid grows up and crosses the age limit of five then UIDAI will issue a regular Card which will have all the features including the biometric identification.
Here is what UIDAI tweets
A child below 5 years of age gets a blue in coloured Aadhaar known as Baal Aadhaar. When the child becomes 5 yr old, a mandatory biometric update is required. #AadhaarForMyChild pic.twitter.com/5IBZRuo7Tr

— Aadhaar (@UIDAI) February 23, 2018
When the child crosses 5 years of age, a mandatory biometric update is required. Pls take the child to any nearby Aadhaar centre for this FREE update. #AadhaarForMyChild pic.twitter.com/l3w6r7KbkD

— Aadhaar (@UIDAI) February 24, 2018
Remember to update biometric Aadhaar data of your child at the age of 5 years and then again at the age of 15 years. This mandatory biometric update for children is FREE. #AadhaarForMyChild pic.twitter.com/XyQTMyYf2F

— Aadhaar (@UIDAI) February 25, 2018
Also to differentiate the Bal Aadhaar from the regular one, the Government.
has colored the card in blue.
However, this card is not mandatory but it will be required once the children grow up and want to apply for any Government scholarship or any aid for higher education. Even if they want to apply for higher studies in foreign universities or colleges the card will be asked for the same.
How to get it?
Step 1: Visit your nearest official Aadhaar enrollment center with your kid and fill the form.
Step 2: One of the parent's Aadhaar cards and the birth certificate of the kid is required
Step 3: A photo of the kid will be clicked at the center
Step 4: Parent's and child's card will be linked.
Step 5: Submit your details like registered mobile number and address.
Step 6: A confirmation SMS will be received after registration.
Step 7: After receiving the SMS a period of 60 days will be required to reach the card at the registered Address.
Note:
1. If after 10 years of the age limit of five years the regular card is not issued then the Bal Aadhaar will be suspended automatically. (i.e before 15 years of age)
2. The child's school ID can be used as identity proof for enrolment.
3. The update to regular Aadhaar at the age of 15 is absolutely free.
I hope this will help you to understand the new Aadhaar card for your kid.
Read more news here: India negotiating biggest ever arms deal.
Click to read more
You will watch a video to read the news