Russian built IL-76 crashes in Algeria killing 257 soldiers
The massive transport plane manufactured by Russia is also used by the Indian Air Force has crashed near Baufarik airport and there are no survivors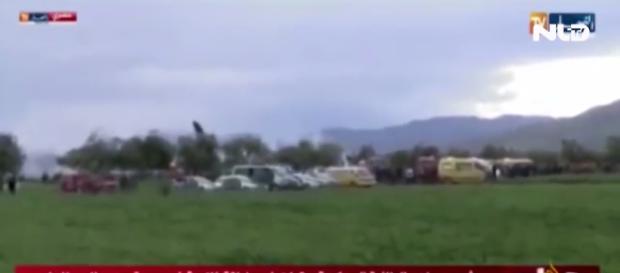 The Illusion-76 is a Russian built plane that has been sold to many countries. The Algerians have also purchased the IL-76 for transportation and logistic support. The plane is also used by the Indian Air Force which has been operating the plane for over 30 years. The IL-76 is among the biggest transport planes in the world and can carry over 300 soldiers or 45 tonnes of cargo. The plane was used by the IAF to ferry troops to the Maldives in 1987 to thwart a coup attempt. First Post has reported that the massive plane took off from the military base at Baufarik about 30 miles from the capital Algiers and crashed immediately after take off. There are no survivors. Reports suggest 257 are dead
Algeria and France
Algeria was a French colony, and the French had incorporated it as an overseas territory.
The Algerians wanted independence, and protracted war of liberation against the French took place. The war resulted in freedom when the French under General De Gaulle threw in the towel and decided to grant independence to Algeria.
Air crashes
Algeria has been riven by factionalism since then. It has purchased many Russian planes, and in the past four years, the North African nation has witnessed some plane crashes, mostly of military aircraft. In November 2014, a Russian built MIG had crashed, and the pilot bailed out and survived.An American built C-130 transport had crashed in Oum El Bouaghi province, 400 kilometers east of Algiers, killing 77 soldiers.
These crashes of planes which are generally considered tough and resilient have shown that the maintenance of these planes may be the Achilles heel of Algeria. The Libya Air Force has conducted investigations into the cause of the crashes, but the finding is not made public.
The crash
This Il-76 had just taken off from Boufarik when it tanked and hit the earth. The plane caught fire and smoke could be seen rising upwards from the site of the crash. Rescue workers rushed to the scene of the crash and eyewitnesses reported some people could be seen jumping out of the burning plane. Five survivors are reported to be in critical condition. Among the dead are 26 men and women belonging to the Western Saharan Polisario independence movement. Algeria also has a dispute with Morocco.
The Russian plane is a total wreck. Its crash could be due to faulty maintenance services of the Algerian Airforce. This crash is one of the biggest air crashes in recent aviation history.
Click to read more
and watch the video